Get Better Auto Leads With Red Alert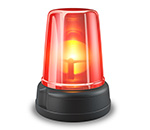 Every lead is generated from our Top Ranked automotive websites on Google, Yahoo, Bing and MSN. When a lead is generated, it enters our system and checks the lead market to see if the lead has been generated with-in the last year. Additionally, our system checks the applications to make sure all the information is accurate. This process helps eliminate most of the problems dealerships have faced in the past.
Next, our auto credit specialist calls each applicant to qualify the validity of the lead. If the lead passes our 3 step process it will be delivered to your desired location with-in minutes after it is generated. By taking these extra steps Auto Friend has consistently seen a 3-5% increase in cars sold, by dealerships, over other lead providers.
How It Works
Each dealership has different qualifications for an ideal sub-prime buyer. The dealership will be notified of a Red-Alert Lead if, and when, those qualifications are met. Our Verification Team calls each lead before it reaches the dealership to ask the following questions:
How much money do you have for a down payment
Have you had any re-possessions?
Do you have a trade-in?
Do you have a co-signer available?
What was your last known credit score?
If our Auto Lead Verification Team finds a match, we will notify you with the Red-Alert by live transfer, voice mail or email.
AUTO FRIEND SUB PRIME LEAD PROGRAM
EVERY LEAD IS 100% EXCLUSIVE
DELIVERED IN REAL TIME
FULLY SCRUBBED FOR VALIDITY
CUSTOMIZABLE
AUTO FRIEND BENEFITS
NO CONTRACTS OR MONTHLY FEES
WE HAVE LESS THAN A 3% RETURN RATIO ON DELIVERED LEADS
TOP RATED CUSTOMER SERVICE
THE RED-ALERT FUNCTION
Increases the average car sales by 3-5% over any other lead providers.
Eliminates disconnected phone numbers and non-active buyers.
Increases quality control.
Reduces wasted time and money spent working on bad leads.