BDC Training for Automotive Sales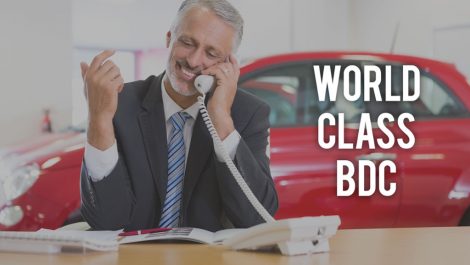 AutoFriend provides the highest quality leads in the current market. However, there are still many techniques in which we have found that truly heighten the close ratio when it comes to automotive sales. Training your sales team the fundamentals of BDC training is very important if you are looking to increase sales within your dealership.
How To Call An Automotive Sales Lead
When calling a lead as a franchise dealer, it's best to call from a private phone number or leave a call back number that is not through the dealership. We have found that the applicant looking for a vehicle sometimes gets turned off if they call back the number and it is a dealership. This is where your Automotive Sales Training becomes useful.
Using Your Automotive Sales Training
For example, Joe is looking for a used Honda, and when he calls back the dealership answers: John Jay Toyota. There is a strong chance Joe will hang up the phone and never reply to your message. This is due to the perception that Joe thinks you only have Toyotas available. Another example, Joe filled out an application from AutoFriend's website, Guaranteed Auto Credit Approval and is expecting a call from that website. However, John's Auto Plaza calls back and leaves a message. There is a small chance that the applicant will not call back because they have most likely walked into numerous dealerships and were denied for auto credit approval already. Your dealership has a department (special finance) which makes a major difference and should be taken advantage of when attacking the leads.
AutoFriend gives full permission and strongly encourages you to leave a message as a Guaranteed Auto Credit Approval. When the applicant calls back, simply let them know that you are from a local location in which you have a variety of vehicles that the applicant is pre-qualified for.
After calling a lead and leaving a message, it is important to call the applicant right back for a second time. By calling the same number back right away it increases your chances of getting the applicant on the phone by 50%. When an applicant sees an unknown number twice they will think it is important and will answer the second call.
How To Use Your Automotive BDC Script
Take advantage of the contact options provided by AutoFriend and our BDC training. If you have left a voice mail and called back again with no success, call the work number provided and try to get them there, or leave another message. You can also email the applicant with a pre-qualified letter (If needed, AutoFriend can provide you with a template).
Best time to reach an applicant:
Monday-Saturday: 8:30 AM-10:00 AM 6:00 AM-9:00 PM
Sunday: 5:00 PM- 9:00 PM
BDC Leads Calling Script
Hi, this is __________ calling from Guaranteed Auto Credit approval. We specialize in getting consumers with sub to mid prime credit into a vehicle of choice. We received your online application and have a pre-qualified offer waiting for your approval. Please call me back to set up an appointment at one of our credit centers in your area. We offer a large selection of new/used vehicle and are successful in getting consumers into cars. Once again my name is _________ from Guaranteed Auto Credit Approval and my number is ____________.
Thank you and I look forward to hearing back from you soon.
Email Templates
Sample Email Template A
Dear Sample,
Congratulations!
You have been Pre-Qualified for an auto loan through our network of lenders. After reviewing your online auto application we have selected dealership name as the right fit for your needs.
What are the Advantages?
Dealership name has the right lenders to give you the best interest rates.Dealership name has a tremendous inventory of new and used cars to get you what you want and need!
You're Pre-Qualified, Now What?
Please call as soon as possible to set up an appointment and get into a car or truck today!
DEALERSHIP NAME
1234 South Main Street
Anytown, NY 12345
Ask for Mike Jones
000-000-0000
Sample Email Template B
Dear Sample,
Thank you for your interest in an auto loan. After reviewing your online auto application, we are happy to inform you that you have been Pre-Qualified for a vehicle. Please contact us as soon as possible so we can make an appointment for you to come check out our tremendous inventory of new and used cars and trucks!
DEALERSHIP NAME
1234 South Main Street
Anytown, NY 12345
Ask for Mike Jones
000-000-0000
How We Can Help
If you're looking for BDC training for you and your dealership, AutoFriend can help. Automotive Sales Training helps you from call to conversion. We can help with training, implementation as well as recruitment. Contact us or call (888) 912-8863.