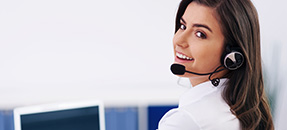 AutoFriend Leads Inc. continuously strives to improve customer satisfaction. Our most recent development is our in-house auto lead verification team. The single purpose of the verification process is to ensure that every single lead is accurate before it reaches the dealership. As a result, the dealership will contact more applicants and increase monthly sales. Our team consists of highly trained internet sales specialists who work together with the dealership's internet department to create as many sales as possible.
Personal and Direct Agents
Our live operators help applicants over the phone by asking them a series of questions. Questions include financial background and driving history.
Once a lead is generated, our verification team and underwriters make sure it passes our guidelines before it is processed. Personal and directs agents are responsible for helping identify and eliminate bad leads before it reaches the dealership.
Once we approve a live applicant, our Auto Lead Verification team will transfer the call directly to the dealership. The live transfer process alerts dealerships via our Red-Alert Leads system.
Customize your Auto Sales Leads
We provide our dealerships the ability to customize the questions our representatives ask the live applicants. For example:
How much down payment will you be providing?
What is your current credit score?
Do you have a co-signer?
Do you have a trade-in?
Have you had any repossessions?
Dealerships have the ability to customize their auto leads using the following criteria:
Type of employment and income
Zip codes and location
Delivery method
Working With Our Auto Lead Verification Team
AutoFriend Leads Inc. works with your dealership step by step. This includes following up with all leads that have not connected with your dealership. We guarantee that every lead we process is an interested prospect looking for a new or used car.
Every dealership that uses our Auto Verification Team will have the ability to:
View and print leads
Record Notes
Edit lead sheets
Make returns